Who Accredited Sonography Programs in the USA
The accrediting body for medical sonography programs is the Commission on Accreditation of Allied Health/Education Programs (CAAHEP). The CAAHEP has accredited 150 programs till yet, including those offered by university training programs, various colleges and universities.
What is Accredited Sonography Program and Its Procedure Explained
A school or program can show that they have attained a particular standard or quality in the education they offer by undergoing the accreditation procedure. An independent or impartial organization that ensures the training and teaching match quality standards sets the standard and approves it. It simply indicates that a program for ultrasound technicians that has earned accreditation has passed a "quality assurance test".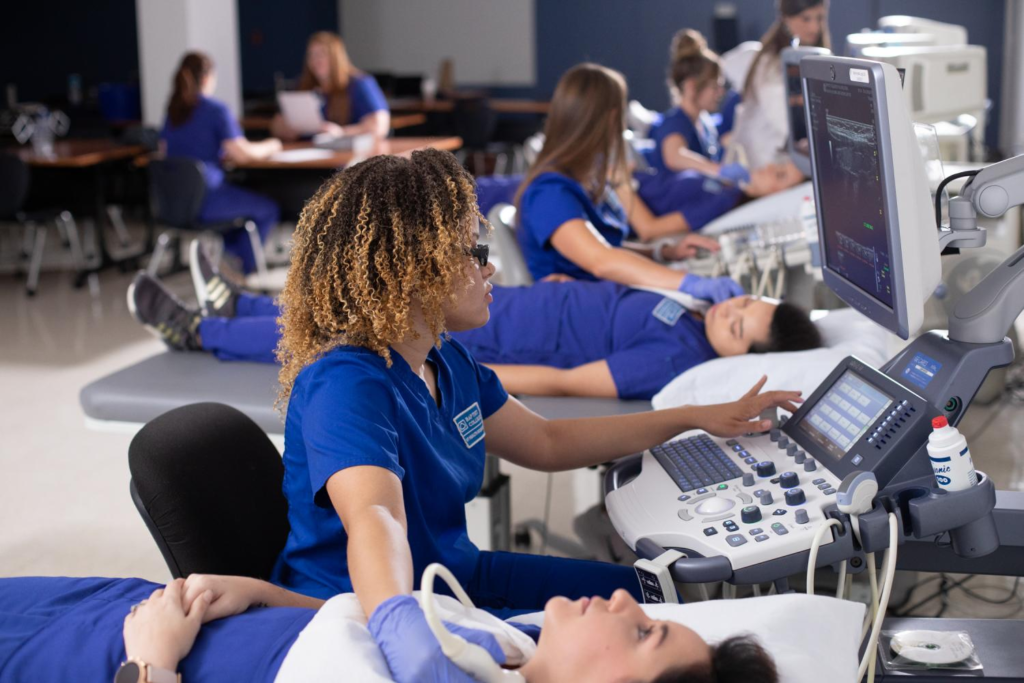 The choice of an Accredited sonography program is crucial for a career in diagnostic medical sonography than factors like sonography program cost, institute's location, duration to completion, career aid, employment rate, and entry criteria. Although being a certified or licensed ultrasound technician is not currently required by the majority of states, practically all businesses will. The procedure of being licensed or certified is made simpler and validates your level of study if you enroll in an accredited sonography program.
Why There Is a Need of Accreditation in Sonography Programs:
Let's first grasp the relevance of certification in sonography programs before getting into the specifics. An educational institution or program's compliance with industry best practices and particular quality standards is confirmed through the review process of accreditation. A thorough education that equips students for prosperous jobs in sonography is ensured through accreditation. Additionally, it acts as a standard for employers, providing them with the assurance that graduates have the abilities to carry out their tasks effectively.
The Joint Review Committee on Education in Diagnostic Medical Sonography (JRC-DMS):
Another important accrediting agency in the realm of sonography education is the Joint Review Committee on Education in Diagnostic Medical Sonography (JRC-DMS). To guarantee the caliber of diagnostic medical sonography programs throughout the US, JRC-DMS collaborates with CAAHEP.
Sonography Programs are assessed by JRC-DMS using exacting criteria that take into account didactic education, clinical experience, faculty credentials, and program management. The highest requirements in sonography education are met by programs with JRC-DMS accreditation, giving students the tools they need to succeed in the field.
The American Registry for Diagnostic Medical Sonography (ARDMS):
The American Registry for Diagnostic Medical Sonography (ARDMS) is essential to the certification of sonographers, whilst CAAHEP and JRC-DMS concentrate on approving educational programs. The ARDMS is a well-known certifying body that awards credentials to sonography technologist who have shown their proficiency in particular specialty fields, such vascular, abdominal, or obstetric sonography.
The Society of Diagnostic Medical Sonography (SDMS):
The Society of Diagnostic Medical Sonography (SDMS), in addition to the aforementioned certifying agencies and accrediting bodies, is crucial to the development of sonography. The SDMS is a professional organization that supports the highest standards of patient care and professional development among sonographers, despite the fact that it does not officially approve accreditation of sonography programs.
The SDMS offers helpful tools, opportunities for continuing education. It also provides a venue for networking and information exchange within the sonography community. It represents sonographers' interests and fights for the recognition and development of the field.
State and Regional Accrediting Bodies:
It's vital to remember that some states or regions may have their own certifying bodies for sonography programs. The national accrediting agencies also work simultaneously that mentioned above. These organizations make ensuring that the programs that fall under their purview adhere to certain regional specifications. The aim of sonography education is to ensure quality and uniformity, even though state-by-state requirements may differ.
Benefits of Accredited Sonography Programs:
Accreditation brings several benefits to both students and educational institutions offering sonography programs. For students, attending an accredited program ensures that they receive a high-quality education that aligns with industry standards. It enhances their employment prospects, as many employers prefer hiring graduates from accredited programs.
Accreditation gives students the peace of mind that a program has undergone a thorough assessment and satisfies the requirements for thorough education, clinical training, and student support services. Additionally, it enables students to qualify for certification exams provided by institutions like the ARDMS.
Educational institutions offering accredited sonography programs benefit from the credibility and recognition that comes with accreditation. It demonstrates their commitment to providing quality education and enhances their reputation within the healthcare community. Accreditation also facilitates partnerships with clinical training sites and promotes collaboration with other institutions. This practice results in continuous program improvement and innovation.
Continuous Quality Improvement:
Accreditation is a continuous process rather than a final result. Sonography programs that want accredition must show that they are constantly improving the quality. To ensure that they continue to adhere to the specified standards, they go through routine reviews and assessments. This procedure encourages programs to keep current with technological developments. And, sich developments consider student and employer input, and make the required changes to their curricula and training methods.
The Future of Sonography Accreditation:
The accreditation procedure must adjust and develop along with the profession of sonography as new technologies and specializations are developing. To reflect the shifting demands of the business, accrediting agencies regularly examine and revise their criteria. Accrediting agencies include CAAHEP and JRC-DMS that fulfil future needs. They work together with experts, educators, and industry stakeholders to make that accredited sonography programs give graduates the skills they need to fulfil the changing requirements of the healthcare business.