Ultrasound Tech School's Duration – How Long Does Ultrasound Tech School Last?
Types of Ultrasound Tech School Program – certificate programs, associate degree programs, bachelor's degree programs
Duration of Ultrasound Tech School – 8 to 12 months, 2 years, 4 years.
A variety of medical disorders can be diagnosed and treated with the use of medical imaging. The ultrasonic imaging, called ultrasound technology, has become one of the most effective and adaptable imaging methods available in this era. Diagnostic medical sonographers and ultrasound technicians are the trained individuals who operate the ultrasound machinery and create precise pictures of the inside organs and tissues of the body. If you're thinking about becoming an ultrasound technician, you might be curious how long ultrasound tech school lasts. Let's dive into the major elements of how long does ultrasound tech school last.
The Role of an Ultrasound Technician
Understanding the duties and function of an ultrasound technician is crucial before getting into the duration of ultrasound tech school. For the purpose of performing ultrasound tests on patients, these specialists collaborate closely with doctors and other healthcare professionals. They take pictures of the body's organs, tissues, and blood flow patterns using high-frequency sound waves. With the use of these scans, a variety of medical disorders, including cardiovascular illnesses, issues from pregnancy, and abnormalities in organs like the liver, kidneys, and gallbladder, can be found and diagnosed. Additionally, in order to explain processes to patients and assure their comfort throughout tests, ultrasound technicians need to have great communication and interpretation skills.
Educational Requirements for Ultrasound Technicians
To pursue a career as an ultrasound technician, you'll need to complete a formal education program. The duration of ultrasound tech school can vary depending on the type of program you choose. Generally, there are three main educational pathways available for aspiring ultrasound technicians:
certificate programs – 12 to 18 months
associate degree programs – 2 years
bachelor's degree programs – 4 years
Certificate Programs: A Focused Approach
Ultrasound technology certificate programs offer a more concentrated and quick information and practical. The length of such programs varies based on the institution, although they normally range between 12 and 18 months. People who already have a degree in a healthcare-related profession, such nursing or radiologic technology, and want to specialize in ultrasound technology, prefer considering certificate programs. The benefit of Ultrasound Technician Certificate Programs is that they provide a focused curriculum that only includes coursework and clinical experience pertaining to ultrasonography. This enables students to swiftly acquire the abilities and information required to work in the industry.
Associate Degree Programs: A Comprehensive Foundation
Well-liked option for aspiring ultrasound technicians/ technologists is Associate Degree Programs. Although certain expedited programs could provide a shorter period, these programs typically last two years. Programs leading to an associate's degree offer a thorough education that combines general education classes with specialized ultrasound training. Anatomy, physiology, medical ethics, patient care, and numerous ultrasound imaging modalities will all be covered in class. These programs' clinical components enable students to obtain practical experience in a monitored hospital environment, polishing their abilities and putting them in shape for professional practice.
Bachelor's Degree Programs: A Deeper Understanding
Bachelor's degree programs in ultrasound technology are offered for students looking for a deeper education and a greater grasp of healthcare. This program provides advanced knowledge in sonography field including medical imaging, healthcare administration, research methodology, and professional development. The duration of Bachelor's Degree Program in Ultrasound Technology normally last four years. Students who want to work in leadership positions or who want to pursue advanced degrees like a master's or doctorate in medical imaging or healthcare management may find bachelor's degree programs in Ultrasound Technology to be a great fit.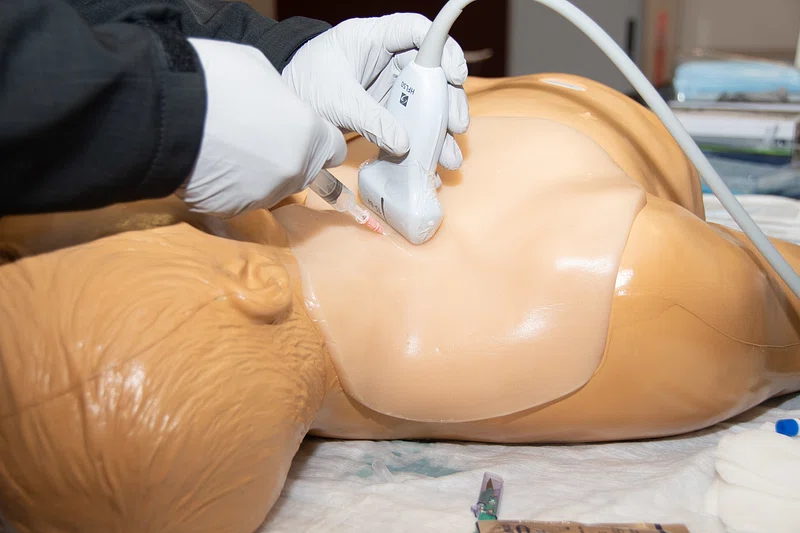 Clinical Internships as Mandatory Part of Ultrasound Tech School
Clinical internships are a mandatory part of ultrasound technician training, regardless of the educational path selected. Students receive practical experience and apply their classroom knowledge to real-world problems while working in healthcare settings under the guidance of seasoned experts during these internships. Clinical internships offer beneficial practical training and aid in the development of critical patient care, equipment use, image capture, and interpretation skills in students.
Graduates who complete the program successfully may apply for ultrasonic technology certification. Although it is not usually required by law, certification is strongly advised and frequently preferred by employers. The American Registry for Diagnostic Medical Sonography (ARDMS) offers the most valuable certification for ultrasound technicians/technologists. Candidates must pass the relevant exams, which evaluate their expertise in particular facets of ultrasound technology, in order to become certified. Certification not only proves competence but also improves professional reputation and employment chances.
Specializations in Sonography
Abdominal Sonographer
Sound waves are used in abdominal ultrasound to provide images of the structures in the upper abdomen.
It is used to assess the kidneys, liver, gallbladder, bile ducts, pancreas, spleen, and abdominal aorta as well as to assist identify discomfort or distention (enlargement).
Vascular Sonographer
The standard name for a painless, non-invasive examination that employs high-frequency sound waves to visualize blood vessels, including arteries and veins, is "vascular ultrasound." Leg veins are squeezed, and blood flow is measured to ensure that the vein is not blocked.
Musculoskeletal Sonographer
Musculoskeletal Ultrasound imaging uses sound waves to produce pictures of muscles, tendons, ligaments and joints throughout the body. It is used to help diagnose sprains, strains, tears, and other soft tissue conditions. Ultrasound is safe, noninvasive, and does not use ionizing radiation.
Breast Sonographer
Sound waves are used in breast ultrasound imaging to create images of the inside breast tissues. It is mostly employed to assist in the diagnosis of breast masses or other abnormalities that may have been discovered by a physical examination, mammography, or breast MRI.
Obstetric and Gynecological Sonographer
Obstetrical and gynecological sonography, commonly referred to as OB/GYN ultrasound, is a diagnostic imaging modality specialty. Obstetrical (OB) sonography refers to the use of ultrasound to visualize and determine the condition of a pregnant woman and her fetus.
Neurosonographer
Patients of all ages who see a neurosonographer have ultrasounds done on their brains and nervous systems. Neurosonography, also known as neurosonology or neuroimaging, differs from conventional obstetric and abdominal sonography devices in that it makes use of specialized beam shapes and frequencies from a Transcranial Doppler (TCD).
Echocardiographer
Echocardiography, is a painless test that uses sound waves to create moving pictures of your heart. The pictures show the size and shape of your heart. A type of echo called Doppler ultrasound shows how well blood flows through your heart's chambers and valves.
Career Opportunities
You may look at various job sites including: Indeed.com, UltrasoundJOBS by ARDMS and Pronto.com. Besides, MedScholarsHub.com recommends updating your LinkedIn profile and Facebook profile, connect people of the similar industry and keep posting about your professional thoughts, qualification, patents, research, facts, and specializations. This will help HR resources to find you easily when they search for niche related people on social media. Sharing frequent post and keep profile update will give you more visibility and exposure, resulting in more opportunities for growth.
Additional Factors Affecting Duration
While the aforementioned educational courses offer a broad idea of how long ultrasound tech school should last, it's important to take into account additional elements that may have an impact. These elements consist of the course schedule, program structure, and individual circumstances.
For students who might be working or have other commitments, several colleges offer part-time or evening programs. The longer length of these programs is usually a result of the fewer courses required each semester. Accelerated programs, on the other hand, compress the coursework into a shorter time period, enabling students to graduate more rapidly.
Conclusion
The duration of ultrasound tech school can vary depending on the educational pathway chosen, ranging from 12 to 48 months. Certificate programs offer a focused and expedited approach, while associate and bachelor's degree programs provide a more comprehensive education. Factors such as program structure, clinical internships, and individual circumstances can influence the length of the program. Regardless of the educational path, clinical internships and certification are essential steps toward becoming a qualified ultrasound technician. Continued education and professional growth are crucial for staying current in the field and pursuing specialization. With dedication and commitment, aspiring ultrasound technicians can embark on a rewarding career that combines technology, patient care, and diagnostic excellence.