Podiatry School Admissions and Requirements
The practice of podiatry, a specialist area of medicine with a focus on the diagnosis and treatment of foot and ankle disorders, is essential to preserving peoples' general health and wellbeing.
We shall examine the world of podiatry school admissions and the crucial requirements for prospective podiatrists in this extensive guide.
The need for qualified podiatrists is growing as more individuals realize how important foot health is to their everyday lives.
As a result, being accepted into podiatry school and fulfilling the prerequisites has been harder and more competitive.
Introducing the Field of Podiatry
It's important to have a thorough grasp of the discipline before diving into the admissions procedure and standards for podiatry colleges.
Podiatry is the study, diagnosis, and treatment of diseases of the foot, ankle, and lower extremities. It is also known as podiatric medicine or chiropody in some countries.
Podiatrists are qualified medical experts with specialties ranging from intricate procedures for deformities and injuries to common foot issues like bunions and plantar fasciitis.
Podiatrists are essential in maintaining mobility and in the treatment of chronic illnesses like diabetes, which can have major negative effects on foot health.
Sports medicine, surgery, wound care, and orthopedics are just a few of the many specializations available in this exciting, fulfilling, and diverse industry.
Podiatry is a potential career choice because to the aging population and rising awareness of the significance of foot health.
Podiatry School Admissions Requirements
It's essential to satisfy and surpass the conditions established by the organizations you are applying to in order to improve your chances of being accepted into podiatry school.
Here are the typical entrance standards for podiatry schools in the US, while there could be minor variances across institutions:
1. Bachelor's Degree
Most podiatry programs, as was already noted, require applicants to have earned a bachelor's degree.
Although no particular major is required, it is important to have a solid background in the sciences, such as biology, chemistry, and physics.
It's critical to do well academically during your college education.
2. Prerequisite Courses
In addition to a bachelor's degree, you will need to have completed specific prerequisite courses. These courses typically include:
Biology (with lab)
General Chemistry (with lab)
Organic Chemistry (with lab)
Physics (with lab)
English
It's important to maintain a high GPA in these prerequisite courses, as they are a fundamental component of your application.
3. Standardized Test Scores
You must take the PMCAT, or Podiatric Medical College Admission Test, to demonstrate your academic ability.
Your understanding of biology, chemistry, physics, and critical thinking abilities are assessed by this standardized test.
Gaining admission to podiatry school requires competitive PMCAT scores.
4. Recommendation letters
Letters of recommendation are typically required as part of the admission process for podiatry schools.
These letters should preferably come from mentors and teachers who can attest to your dedication to the podiatry profession and speak to your academic talents.
Make sure to notify your recommenders of the deadlines and other pertinent information before requesting these letters.
5. Clinical Experience
It's important to show that you are committed to the podiatry profession.
The admissions committee seeks candidates who have received clinical experience through voluntary work or shadowing actual podiatrists.
This experience not only improves your application but also gives you insightful knowledge of the field.
6. Personal Statement
You get the chance to demonstrate your love for podiatric medicine in your personal statement and discuss your career goals.
It should be well-written, succinct, and customized to the demands of each institution. Share your experiences, reasons for being, and professional goals here.
7. Interviews
You can receive an invitation to an interview with the podiatry school if your application is competitive.
This is an opportunity for you to further show your dedication to the field and your interpersonal abilities.
Be prepared to discuss your experiences, goals, and why you are interested in their program.
How Long It Takes to Become a Podiatrist and What's Required to Practice
Becoming a podiatrist involves a significant amount of education and training. The process typically includes the following steps:
Bachelor's Degree (4 years): Before entering podiatric medical school, you need to complete a bachelor's degree. While there is no specific major required, most students choose a science-related field.
Podiatric Medical School (4 years): After completing a bachelor's degree, you must attend a podiatric medical school, which generally takes four years. One example is the Doctor of Podiatric Medicine (DPM) program. During this time, students study anatomy, physiology, pharmacology, and other medical sciences, with a focus on the lower extremities.
Residency (3 years): After graduating from podiatric medical school, aspiring podiatrists typically complete a residency program. The residency provides hands-on experience and specialized training in areas like foot and ankle surgery, sports medicine, or wound care. Residency programs usually last for three years.
Licensing Exam: To practice as a podiatrist, you must pass a licensing exam. The American Podiatric Medical Licensing Exam (APMLE) is a three-part exam that evaluates your knowledge and skills in various areas related to podiatric medicine.
State Licensure: Once you've passed the licensing exam, you need to obtain a state license to practice. Each state has its own licensing requirements, so it's important to check the specific regulations of the state where you plan to practice.
Board Certification (Optional): While not mandatory, some podiatrists choose to pursue board certification to demonstrate their expertise in a specific area of podiatric medicine. This involves meeting additional educational and clinical experience requirements and passing a board certification exam.
The Road to Becoming a Podiatrist
A podiatrist must be committed, educated, and trained. This career path necessitates not just a solid academic background but also a dedication to patient care and a sincere interest in the subject. The American Association of Colleges of Podiatric Medicine, or AACPM, lists on its website the minimum undergraduate education requirements for aspiring podiatrists to be eligible to enter podiatry school. These requirements are either three years or ninety semester hours. According to the AACPM website, undergraduate pre-podiatry coursework must include courses in biology, general chemistry, organic chemistry, physics, and English.
According to the AACPM website, over 97% of students in podiatric medical schools hold a bachelor's degree, and many of them have already earned a graduate degree. According to the AACPM website, the only standardized test typically required for admission to podiatry school is the Medical College Admission Test, or MCAT.
According to usnews.com, podiatry programs are often selective, yet not as difficult to get into as the most esteemed M.D. programs. "Admission to a college of Podiatric Medicine is indeed competitive, although not at the level of an Ivy League or top-tier Allopathic Medical School," he stated.
Related Article: What Are the Veterinary Assistant Requirements? Career Potential, Charm & Studies
Let's first explore the general processes needed to become a podiatrist before talking about the admissions procedure:
1. Undergraduate Education
A strong undergraduate education is the first step on the path to becoming a podiatrist. The majority of podiatry programs in the US demand that applicants hold a bachelor's degree.
Although there is no set undergraduate major required, many aspiring podiatrists choose to major in biology, chemistry, or a closely related subject to guarantee they have a solid background in the sciences.
| | |
| --- | --- |
| Grade Level | Example Courses |
| Freshman | General Chemistry I & LabGeneral Chemistry II & LabPhysics I & LabPhysics II & LabCalculus IHumanities RequirementsElectives |
| Sophomore | Organic Chemistry I & LabOrganic Chemistry II & LabFundamentals of Microbiology & LabGeneticsPhysiologyHumanities RequirementsElectives |
| Junior | Cell Structure & FunctionGeneral Virology & LabMicrobial Genetics & LabBiochemistry IBiochemistry IIPhysicsHumanities RequirementsElectives |
| Senior | Upper Level BiologyUpper Level ChemistryUpper Level PhysicsUpper Level PsychologyUpper Level KinesiologyRemaining Requirements & Electives |
Students should concentrate on maintaining a good GPA and acquiring useful experience in the healthcare industry during their undergraduate years.
This might involve working as a volunteer in hospitals or clinics, observing practicing podiatrists, or taking part in studies on the subject.
2. Preparing for the MCAT
Aspiring podiatrists are required to take a standardized exam to determine their preparation for professional medical school, similar to how medical school applicants are required to take the Medical College Admission exam (MCAT).
In this instance, it is either the Podiatric Medical College Admission Test (PMCAT), which is particularly created for podiatry school admissions, or the Medical College Admission Test (MCAT), which is for allopathic and osteopathic medical schools.
The PMCAT evaluates a student's general academic aptitude, critical thinking abilities, and knowledge of the natural sciences. To get admitted to podiatry school, applicants must obtain a competitive PMCAT score.
3. Podiatry School Admissions
Applying to podiatry schools is the next step after finishing your undergraduate degree and performing well on the PMCAT.
It's essential to remember that podiatry colleges have distinct admissions requirements from typical medical schools.
The American Association of Colleges of Podiatric Medicine Application Service (AACPMAS) is often used to submit applications.
It's important to thoroughly investigate and evaluate the prerequisites for each podiatry school to which you intend to apply because each one has its unique admission standards and requirements.
Competitive candidates often have stellar academic records, high PMCAT scores, letters of reference, and a compelling personal statement that highlights their enthusiasm for podiatric care.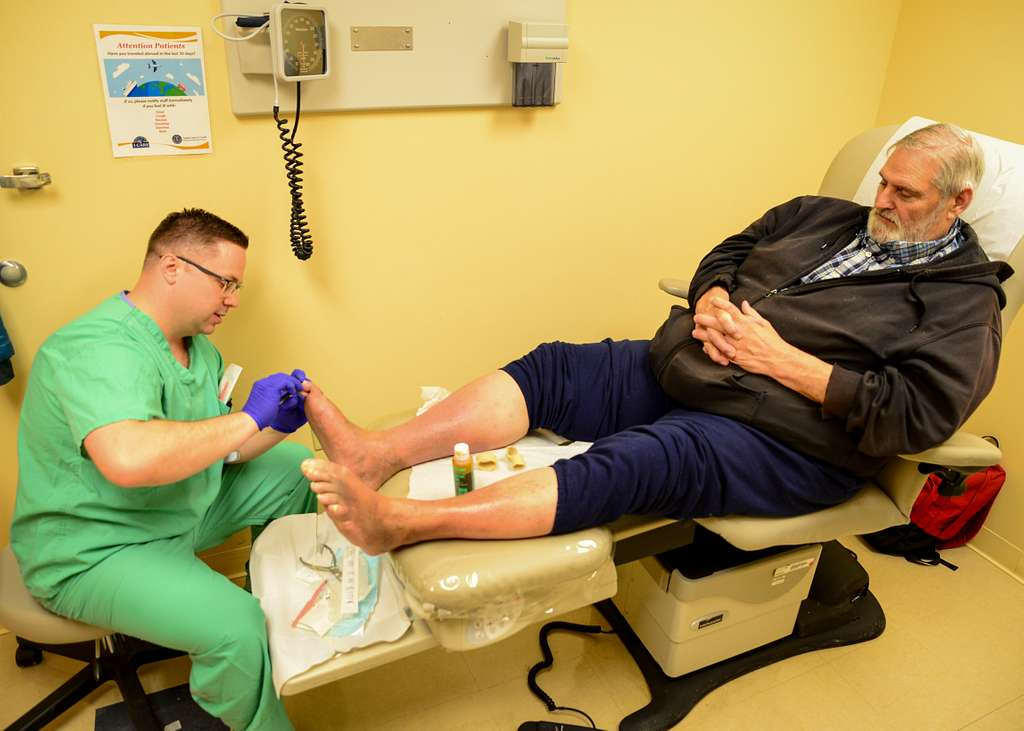 Tips for a Successful Podiatry School Application
Gaining admission to podiatry school is highly competitive, and you'll want to ensure your application stands out. Here are some additional tips for a successful application:
1. Start Early
Begin preparing for your podiatry school application well in advance.
This includes taking prerequisite courses, gaining clinical experience, and studying for the PMCAT.
Starting early will allow you to present a well-rounded application.
2. Research Podiatry Schools
Every podiatry school has its own particular preferences and standards.
To learn what qualities they value in candidates, extensively research the colleges you are considering.
Adapt your application to reflect the goal and values of each institution.
3. Take Advice from Mentors
Think about asking academic counselors, role models, or current podiatry students for advice.
On the application process, interviews, and school selection, they may offer insightful guidance.
You may rely on their first-hand expertise and experiences to guide you through the complexity of podiatry school admissions.
4. Get ready for job interviews
If you receive an invitation to an interview at a podiatry school, give yourself plenty of time to be ready.
Be prepared to explain in-depth your motivations, experiences, and aspirations during interviews by practicing your replies to frequently asked questions.
Confidence and a genuine passion for podiatry can make a positive impression during interviews.
5. Showcase Your Commitment
In your application, be sure to highlight your commitment to the podiatry profession.
Focus on your clinical encounters, shadowing opportunities, and any pertinent volunteer or research activities.
Admissions committees want dedicated candidates to have a significant effect on their field.
6. Apply to Different Schools
Even if you might have your heart set on a certain podiatry program, it's a good idea to apply to many programs to improve your chances of getting admission.
Ensure that you choose a mix of safety schools (where acceptance is likely), target schools (where admission is likely), and reach schools (where admission is less competitive).
7. Proofread Your Application
When submitting your application, accuracy is crucial.
Make sure that everything of your writing—including your personal statement, letters of recommendation, and other writing materials—is flawless.
A polished application speaks favorably of your professionalism and dedication to the application process.
Beyond Admission: Life in Podiatry School
Your path to become a podiatrist is far from done once you've been admitted to a podiatry program.
Typically, a rigorous four-year curriculum of classroom education, laboratory work, clinical rotations, and practical training makes up podiatry school.
What to anticipate when attending podiatry school is as follows:
1. Didactic Curriculum
The didactic curriculum dominates the first two years of podiatry school. You'll take classes on topics including biomechanics, pharmacology, anatomy, and physiology.
The knowledge basis required for clinical practice is provided by these fundamental courses.
2. Clinical Rotations
You'll start your clinical rotations in the latter two years of podiatry school.
You can receive practical experience in a variety of podiatric medical disciplines, including sports medicine, surgery, wound care, and pediatrics, through these rotations.
Rotations are a crucial component of your study because they give you practical experience and expose you to various areas of podiatry.
3. Board Examinations
You need to pass a number of board tests in order to become a licensed podiatrist.
The American Podiatric Medical Licensing Examination (APMLE) is the most crucial of these tests.
Passing the APMLE is required to practice podiatric medicine in the United States. Podiatry school prepares you for these exams through its curriculum and clinical training.
4. Residency
Many podiatrists decide to finish a residency program to hone their abilities after completing podiatry school and earning their Doctor of Podiatric Medicine (DPM) degree.
Residencies offer extensive, specialized training in fields like surgery or sports medicine and often last three years.
Wrapping Up
A rewarding endeavor that calls for commitment, study, and training is becoming a podiatrist.
It is difficult to get into podiatry school because of the demanding admissions procedure, thus fulfilling the standards is crucial.
You can improve your chances of getting accepted to the podiatry school of your choice by earning a bachelor's degree, doing well in prerequisite courses, getting a competitive PMCAT score, gaining clinical experience, obtaining strong letters of recommendation, and creating an engaging personal statement.
Once accepted, your podiatry school studies will equip you for a rewarding future as a podiatrist.
The need for qualified podiatrists is anticipated to increase further due to the aging population and more attention being paid to foot health.
The area of podiatry offers a variety of chances to improve the lives of your patients and the community, whether you choose to work in private practice, a hospital, or a specialty clinic.