List of Vet Schools in the UK – Eligibility and Admission Procedure
Animal lovers and healthcare enthusiasts alike retain a particular place in their hearts for the noble and difficult profession of veterinary medicine. Vet schools in the UK can help enthusiasts fulfil their dreams.
Aspiring veterinarians in the UK have access to famous veterinary colleges where they may acquire top-notch education and training.
These schools are renowned for their demanding curricula and dedication to turning out qualified specialists who can look after the health and wellbeing of animals.
This thorough guide will lead you through the requirements and the application process for vet schools in the UK if you have a desire of becoming a veterinarian and are thinking about continuing your study there.
Introduction to Veterinary Medicine in the UK
Let's take a minute to explore the relevance of veterinary medicine in the UK before getting into the intricacies of eligibility and admissions.
The health and wellbeing of animals are crucially protected by veterinarians since some illnesses may be passed from animals to people, which is essential for both public health and the welfare of the animals themselves.
The Royal College of Veterinary Surgeons (RCVS) oversees veterinary medicine in the UK.
The RCVS establishes the requirements for veterinary training, practice, and conduct.
The need that one be registered with the RCVS in order to operate as a veterinarian in the UK emphasizes how crucial it is to graduate from a veterinary school that has been approved and recognized.
List of Veterinary Schools in the UK
Eligibility Criteria for Vet School Admission
You must fulfill specific requirements before starting your path to become a veterinarian in the UK.
These requirements are intended to guarantee that potential candidates have a solid background in the sciences and are well-equipped for the rigorous requirements of veterinary school.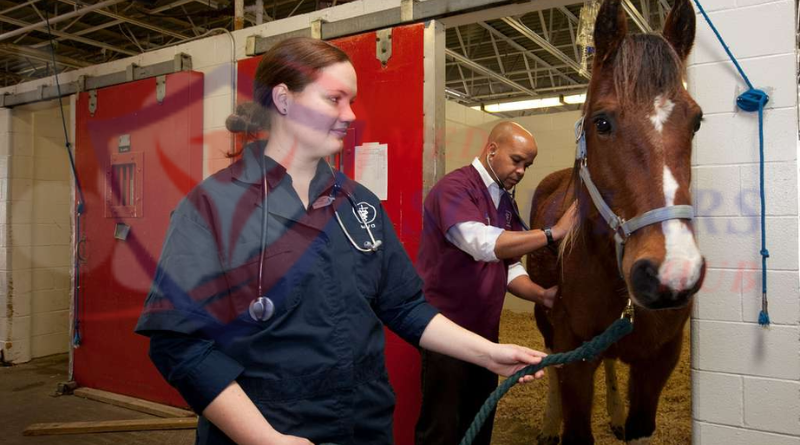 The following are the main criteria for eligibility:
Academic Qualifications
The most important need for qualifying is holding the required academic credentials.
Normally, you must have successfully finished secondary school, or its equivalent, with strong grades in science disciplines, especially in biology and chemistry.
It is crucial to verify the entrance criteria of the veterinary schools you are interested in as specific requirements may differ somewhat between institutions.
Work Experience
In the UK, several vet schools place a great importance on relevant professional experience with animals.
This can be helping out at animal shelters, serving as an intern at a veterinary hospital, or working on a farm.
Having actual experience caring for and managing animals is a major advantage in your application, even though the quantity of necessary job experience might vary.
Entrance Examinations
Some institutions can ask you to take entrance exams to better gauge your suitability for veterinary study.
For instance, the Biological Natural Sciences Admissions Assessment (BNSAA) is a requirement for admission to the University of Cambridge. Check the particular criteria for each university you intend to apply to.
Personal Statement
One of the most important components of your application is a strong personal statement. It gives you the chance to demonstrate your love for veterinary medicine, your knowledge of the subject, and your reasons for choosing this line of work.
In your resume, be sure to emphasize any relevant experiences, extracurricular pursuits, or character traits that make you a standout applicant for veterinary school.
Letters of Recommendation
Most veterinary schools want letters of recommendation from someone who can vouch for your abilities and character.
Ideally, these letters would come from professors, veterinarians you've worked with, or other well-respected individuals.
Application Procedure
The next step is to traverse the application procedure after making sure you fulfill the qualifying requirements.
Here is a step-by-step guide to help you with the UK veterinary school application process:
Step 1: Research
Start by doing some research on the UK veterinary schools. Every institution could have a different curriculum, set of resources, and culture.
Take into account elements including location, course design, instructor credentials, and resources accessible. Make a list of the universities that fit your interests and professional aspirations.
Step 2: UCAS Application
In the UK, the Universities and Colleges Admissions Service (UCAS) handles undergraduate admissions to the majority of universities, including veterinary schools.
Make a UCAS account, then finish the online application.
Prepare your personal information, academic credentials, personal statement, and your top five selections for veterinary schools.
Step 3: Personal Statement
It's essential to write a fantastic personal statement. Spend some time thinking about your love of veterinary medicine, your relevant experiences, and your long-term professional aspirations.
Explain why you are the right fit for the program at each university in your statement, taking into account the unique criteria and culture of that institution.
Step 4: Letters of Recommendation
In ahead, ask for letters of recommendation. Allow plenty of time for your referees to draft thoughtful, persuasive letters that highlight your qualifications and eligibility for veterinary study.
Step 5: Entrance Examinations
Register for and pass any admission exams needed by the universities you are applying to, if necessary. Make careful to confirm the testing dates and deadlines for these exams.
Step 6: Submit Your UCAS Application
Once you've gathered all the required paperwork and finished the UCAS application, thoroughly check it over to confirm correctness.
To be considered for admission to the next academic year, your application must be submitted before the deadline, which is normally in early January.
Step 7: Interviews
You could receive an invitation to an interview at the veterinary schools you've applied to if your application is shortlisted.
The admissions committee will be evaluating your communication skills, problem-solving ability, and enthusiasm for veterinary care throughout these interviews, so be sure to prepare properly.
Step 8: Offers and Acceptance
You will get offers from the veterinary schools you applied to after the interview process. These offers can be conditional, which means they depend on you meeting specific academic requirements.
After receiving offers, thoroughly assess your alternatives and choose the school that most closely fits your tastes and aspirations. As directed, respond to the offers through UCAS.
Step 9: Financing Your Education
Because veterinary school may be expensive, it's necessary to look at financial opportunities. Examine the financial aid, grants, and scholarships available to veterinary students.
Moreover, think about taking out student loans or working part-time to pay your expenditures.
Step 10: Enrollment
You will be given details on how to enroll at your preferred vet school after accepting an offer. To guarantee a seamless entry into your veterinarian program, carefully follow these guidelines.
Last Words
In the UK, becoming a veterinarian is a rewarding process that calls for commitment, fervor, and a solid academic basis.
The UK's top veterinary colleges provide you with the education and training you need to succeed in this noble profession.
Make sure you satisfy the requirements for admission, submit a strong UCAS application, and study hard for the interview and test in order to be accepted.
Keep in mind that veterinary medicine is a calling motivated by a strong affection for animals and a dedication to their welfare.
Therefore, when you begin your journey to become a veterinarian, embrace the difficulties, treasure the opportunities for learning, and anticipate a future in which you will play a significant part in the health and pleasure of both humans and animals.