How to Pursue an Anesthesia Course After 12th? Anesthesia Course Fees
The best option to pursue an Anesthesia Course after 12th is to go with BSc Anesthesia, although some certifications and workshops are also available but they don't help you get an authentic certification. BSc Anesthesia duration is 3- years and it makes students capable enough to serves as a specialist, routing towards a rewarding career in anesthesiology.
Do you want to work as an anesthesia physician? You might be asking how to get started if you have completed your 12th grade and are ready to start down the route to becoming an anesthesiologist. Pursuing an anesthesia course after 12th requires careful planning and an understanding of the steps involved.
Some Options for Anesthesia Courses After 12th
If you're interested in pursuing a career in anesthesia after completing your 12th grade (high school), there are some educational paths you can consider, depending on your career goals and the country you are in. Here are some common options for anesthesia-related courses, maybe you will be more interested in 4th, 5th and 6th options:
Bachelor's Degree in Nursing (B.Sc. Nursing):

Duration: 4 years
After completing a B.Sc. in Nursing, you can work as a registered nurse and gain experience in the healthcare field. Later, you can pursue a Master of Science in Anesthesia (MSA) or a similar program to become a certified registered nurse anesthetist (CRNA).

Bachelor's Degree in Anesthesia Technology (B.Sc. Anesthesia Technology):

Duration: 3 to 4 years
These programs focus on the skills and knowledge required for anesthesia technology, including operating anesthesia equipment, assisting anesthesiologists, and patient care in surgical settings.

Bachelor of Science in Paramedical Technology:

Duration: 3 to 4 years
This degree program may include anesthesia as one of the specializations, and it can prepare you for a career in anesthesia technology.

Diploma in Anesthesia Technology:

Duration: 2 to 3 years
Diploma programs in anesthesia technology are shorter in duration compared to bachelor's degrees and provide training in anesthesia-related skills.

Anesthesia Assistant (AA) Programs:

Some countries, like the United States, offer Anesthesia Assistant programs, which are typically at the master's level. These programs are for healthcare professionals with a background in medicine, nursing, or a related field.

Certification Programs:

There are also shorter certification programs and courses for individuals already working in the healthcare field, such as registered nurses or medical technologists, who want to specialize in anesthesia.
Before enrolling in any of these courses, it's crucial to research the specific requirements and prerequisites for the programs you're interested in. Additionally, consider your long-term career goals, as some roles, like becoming a CRNA, may require further education and certification beyond the initial bachelor's degree.
It's important to note that the availability of these programs and their names may vary from one country to another, so it's advisable to research programs in your specific region or consult with career counselors for guidance on the best path to pursue in your desired career in anesthesia.
Take a look at this table, which gives a good understanding of pursuing your Anesthesia Course. The parameters mentioned below are crucial to know before you decide to enroll in this course.
| | |
| --- | --- |
| Course Name | BSc Anesthesia |
| Full-Name | Bachelor of Science in Anesthesia |
| Course Level | Undergraduate |
| Course Duration | 3 years |
| Examination Type | Annual |
| Eligibility | High-School (or equivalent) with a minimum of 50% in the major Medical and Science subjects |
| Entrance/Admission | Entrance exam + percentage of previous board exam | merit-based |
| Job Positions | Anesthesia Technician, Medical Consultant, Anesthetist, Pediatrician, Clinical Associate, Certified Registered Nurse Anesthetist, Anesthesiologist Assistant, Associate Consultant and more |
Universities Offering Bsc Anesthesia Course After 12th
What To Do Next After Completing BSc Anesthesia?
After Graduating BSc Anesthesia from medical school and then applying to anesthesiology residency program need to consider the conventional steps to pursuing a career in anesthesia as a professional. The essential steps are as follows:
Medical College Admission Test (MCAT) is Essential For BSc Anesthesia Admission:
Take the MCAT, which is required for admission to medical schools in the US. The exam assesses your knowledge in the natural sciences, critical analysis, reasoning skills, and writing ability.
United States Medical Licensing Examination (USMLE):
Pass all three steps of the USMLE, which is a series of exams that assess your medical knowledge and clinical skills. These exams are a requirement for licensure to practice medicine in the US.
Residency Application:
Apply for residency programs in anesthesiology through the Electronic Residency Application Service (ERAS). This system is used by most US medical schools and facilitates the application, supporting documents, and communication between applicants and programs.
National Resident Matching Program (NRMP):
Participate in the NRMP, sometimes known as "the match," which matches applicants with residency programs using a computer algorithm. Ranking your top programs is crucial, and the programs should likewise rank their top candidates. The NRMP produces matches based on shared tastes after that.
BSc Anesthesia Course Syllabus
Here is a bullet list of topics that are typically included in the anesthesia course syllabus after completing the 12th grade:
Anatomy and Physiology
Pharmacology
Anesthesia Equipment and Technology
Anesthetic Techniques
Patient Monitoring
Airway Management
Pain Management
Surgical Procedures and their Anesthetic Considerations
Anesthesia Complications and Emergency Management
Professional Ethics and Legal Considerations in Anesthesia
Please note that the specific curriculum and topics covered may vary between institutions offering BSc Anesthesia programs.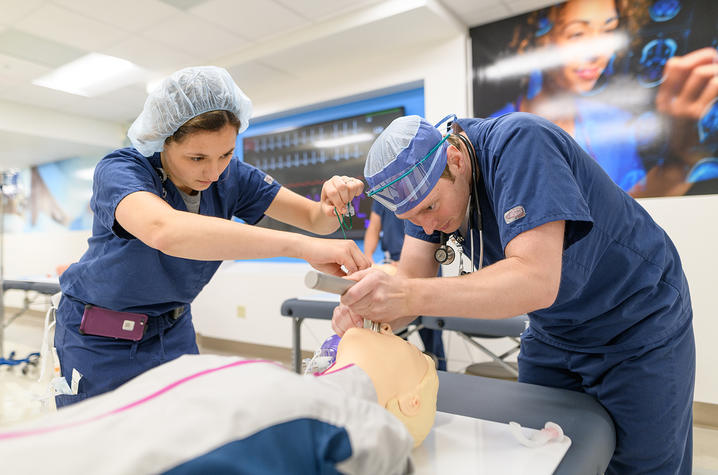 Research the Field of Anesthesia:
It's crucial to have a firm grasp of the subject before diving into the details of the anesthesia doctor course. The medical specialty of anesthesia places a strong emphasis on the comfort of patients and the treatment of pain during surgical procedures. The safety and wellbeing of patients during surgery is crucially dependent on anesthesiologists.
Anesthesia Course Fees
The cost of anesthesia courses can vary widely depending on factors such as the type of course, the institution offering it, its duration, and the location. Anesthesia courses can range from short workshops and certifications to full-degree programs.
Here are some general guidelines on the costs you might expect for different types of anesthesia courses:
Certification or Workshop Courses:
Short courses or workshops, often designed for continuing education, can cost anywhere from a few hundred to a few thousand dollars. These courses are usually shorter in duration and may not lead to a formal degree or certification but can be useful for specific skill development or updates in the field.
Associate Degree in Anesthesia Technology:
Associate degree programs typically take two years to complete and can cost anywhere from a few thousand dollars to several tens of thousands of dollars. The cost can vary based on whether the institution is public or private and whether you are an in-state or out-of-state student.
Bachelor's Degree in Anesthesia or Anesthesia Nursing:
A bachelor's degree in anesthesia nursing or a related field can take four years and is often more expensive. Costs can range from $20,000 to $50,000 or more per year, depending on the institution and location.
Master's or Doctorate Degree in Anesthesia:
If you are pursuing a higher degree in anesthesia, such as a Master of Science in Anesthesia or a Doctor of Nurse Anesthesia Practice, the costs can vary significantly. These programs often cost tens of thousands of dollars per year and may require several years to complete.
Anesthesia Assistant (AA) Programs:
These are typically two to three-year programs and can cost around $50,000 to $100,000 in total, depending on the institution and whether you are an in-state or out-of-state student.
It's essential to research specific programs and institutions to get accurate, up-to-date information on their tuition and fees. Additionally, consider other costs, such as textbooks, equipment, housing, and living expenses, when budgeting for your anesthesia education. Financial aid, scholarships, and grants may also be available to help offset the costs of anesthesia education.
Meet the Educational Qualifications:
You must first fulfil the educational requirements in order to enroll in an anesthesia doctor course. In most cases, you must complete your 12th grade in the science stream, which includes courses in physics, chemistry, and biology. Different countries and educational institutions may have specific requirements, so it's essential to check the eligibility criteria of the institution you wish to apply to.
Choose the Right College or Institution:
Following completion of the educational requirements, you must choose a recognized college or organization that offers anesthesia courses. Look for organizations that have received the necessary authorities' recognition and accreditation. In order to make an informed choice, take into account variables including faculty experience, facilities, and clinical exposure.
Top universities for an anesthesia course
There are several top universities around the world that offer excellent anesthesia courses. The selection of the best university depends on various factors such as reputation, faculty expertise, research opportunities, clinical exposure, and overall educational quality. Here are some renowned universities known for their anesthesia programs:
University of Pennsylvania (United States)
Stanford University (United States)
University of California, San Francisco (United States)
University of Oxford (United Kingdom)
Karolinska Institute (Sweden)
University of Melbourne (Australia)
University of Sydney (Australia)
University of Cape Town (South Africa)
King's College London (United Kingdom)
University of British Columbia (Canada)
University of Amsterdam (Netherlands)
There are many other universities that offer excellent anesthesia programs. It's important to research each university's specific curriculum, faculty, and resources to determine the best fit for your individual goals and needs.
Entrance Examinations:
Entrance exams are administered by a lot of colleges and universities for their anesthesia programs. These tests evaluate your understanding of topics like physics, chemistry, and biology, and occasionally they also incorporate aptitude and reasoning tests. Entrance exams must be adequately prepared for as they are essential for obtaining admission to the college of your choice.
Clinical Training:
A important aspect of an anesthesia education is clinical training. It gives you practical experience in actual medical situations. You will be working under the direction of skilled anesthesiologists during this time, watching and taking part in surgical procedures. This hands-on experience is crucial for building the abilities and self-assurance needed to succeed as an anesthesiologist.
Duration of Study:
Depending on the educational institution and the nation you are studying in, anesthesia doctor courses can last anywhere from one week to many months. The anesthesiologist years of study programs, which includes both the academic and clinical training phases, typically runs from 4 to 6 years. Some organizations might provide further fellowship programs or specializations for deeper specialization in particular anesthesia-related fields.
Specializations Offered in BSc Anesthesia
General Anesthesia
Regional Anesthesia
Pediatric Anesthesia
Obstetric Anesthesia
Critical Care and Intensive Care
Certification and Licensing:
You must receive the required certifications and licenses to work as an anesthesiologist after finishing your anesthesia degree. The nation or area you plan to work in may have different criteria. In order to get certified, candidates must normally pass their individual medical board exams and adhere to all applicable regulations.