Dentistry Courses & Specializations – What Specializations and Courses Should I Do for Dentistry?
Dentistry Courses (in some cases) and Specializations include Pediatric Dentistry, Orthodontics, Oral and Maxillofacial Surgery, Endodontics, Oral Medicine, Prosthodontics, and Periodontics.
Dental care, including the prevention, diagnosis, and treatment of dental problems, is a specialized area of medicine. It is a fulfilling and difficult career that necessitates a strong educational basis. You might be interested in learning more about the many specializations and courses available to you if you're thinking about a career in dentistry. We will discuss the many dentistry courses and specializations in this blog article if you are a dental student in the US.
1. General Dentistry:
The core of dental practice, general dentistry includes a wide range of dental procedures. As a general dentist, you will offer total oral health care, which includes regular checkups, cleanings, fillings, and other fundamental procedures. Prior to thinking about any specialized topics in dentistry courses education, it is essential to have a solid foundation in general dentistry.
2. Pediatric Dentistry:
Infants, kids, and teenagers' oral health is the main emphasis of pediatric dentistry. To address the distinct requirements and difficulties of treating young patients, this area of dentistry specializations requires additional training. Children's dental experiences and the development of healthy oral hygiene practices are greatly influenced by pediatric dentists.
3. Orthodontics:
In the specialized discipline of orthodontics, crooked teeth and jaws are aligned and corrected. Orthodontists utilize a variety of methods, including braces, aligners, and retainers, to straighten teeth and enhance the mouth's overall look and function. Additional education and knowledge in dental and facial orthopedics are necessary for this specialty.
4. Oral and Maxillofacial Surgery:
The mouth, jaw, face, and skull are all surgical targets in oral and maxillofacial surgery. Complex operations like tooth extractions, dental implant placements, and corrective jaw procedures are the responsibility of oral surgeons. This dentistry specialization takes substantial training and frequently involves close collaboration with other medical specialists.
5. Endodontics:
The field of endodontics focuses on the identification and management of conditions affecting the dental pulp and root canal system. Root canal therapy and other procedures are carried out by endodontists to save teeth that would otherwise have to be extracted. Advanced endodontic procedures and in-depth understanding of dental pain treatment are prerequisites for this specialty.
6. Periodontics:
The field of periodontics focuses on the prevention, detection, and treatment of diseases and ailments that affect the gums and tooth supporting systems. Experts at treating gum disease, gum recession, and inflammation are periodontists. To restore oral health, they also carry out surgical operations including gum grafts and dental implant placements.
7. Prosthodontics:
The goal of prosthodontics is to repair and replace broken or missing teeth. Prosthodontist design and fit the dental prostheses like crowns, bridges, dentures, and dental implants. In order to build functional smiles that look natural, prosthodontists need to have an artistic eye.
8. Oral Medicine:
The diagnosis and treatment of oral disorders that may be related to systemic conditions are included in oral medicine. To recognize and treat mouth symptoms of diseases including diabetes, HIV, and autoimmune disorders, oral medicine specialists collaborate closely with other medical professionals. They also treat patients who suffer from orofacial pain on a continuous basis.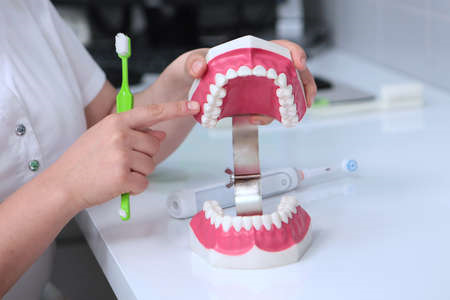 Dentistry Courses to Boost your Career
Now that we've explored various dentistry specializations, let's discuss the dentistry courses you should consider during your dental education to accelerate your career growth:
Basic Sciences: You will take foundational courses in the fundamental sciences, like as anatomy, physiology, biochemistry, and microbiology. These classes establish the framework for more specialized dentistry courses work by giving students a firm understanding of the human body.
Dental Anatomy and Occlusion: Any dental professional must have a thorough understanding of the makeup, structure, and function of teeth. You will learn about the various types of teeth, their development, and how they interact during biting and eating in dental anatomy and occlusion classes.
Dental Materials: Dental materials courses address the range of supplies used in dentistry courses, including metals, ceramics, and composites. You will learn about their characteristics, uses, and methods for utilizing them in dental restorations.
Oral Pathology: The study of disorders that affect the oral and maxillofacial region is a main topic in oral pathology courses. You will develop your ability to identify and classify oral ailments, such as infections, malignancies, and autoimmune disorders.
Clinical Skills and Techniques: As you progress in your dental education, you will have hands-on clinical training to develop the necessary skills and techniques. These courses will involve practicing dental procedures on mannequins and eventually on patients under the supervision of experienced faculty.
Ethics and Professionalism: High moral and professional standards are needed in the field of dentistry. You can learn about the moral principles that govern dental practice and hone your interpersonal communication skills by taking professionalism courses.
Final Thoughts
For those interested in becoming dental professionals, there are numerous available dentistry specializations and courses. Before looking into specialized fields of dentistry courses, it is better to lay a solid foundation in general dentistry. However, it's critical to choose the courses that are in line with your career goals and interests, regardless of whether you decide to pursue pediatric dentistry, orthodontics, oral surgery, or any other dental courses and specializations. Always keep in mind that learning is a lifelong process. And learning is a continuing process for professional development and to remain at the forefront of this ever-evolving industry.